Merkur Razor Blades
Nowadays, Razor Blades are getting more expensive as they use many layers of blades and shaving treatment strips. For this price, you expect to have a perfect shaving without damaging your skin. Unfortunately, the truth is that the new generation of razor blades are over priced and not very efficient!

Hopefully, Merkur Razors uses the Merkur Razor Blades made of stainless platinum to provide an excellent shave. Don't expect to pay a lot for this blades, a pack of 10 will only cost you £4.90!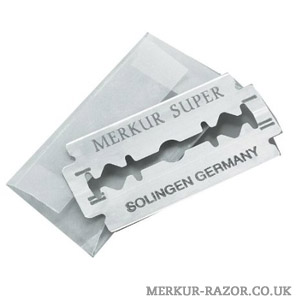 Brand: MERKUR
Price: £6.75
Made of the finest high-carbon stainless steel
These high quality DE razor blades are manifactured in Germany in the Solingen factory where is produced one of the finest steel in the world. The Merkur Razor blades have a platinum coating giving a smooth silky effect and to ensure that they stay sharp after several shaves. These double edged razor blades fit all traditional double edge razors from Merkur and other brands. Buying the Merkur razor blades will give your razor an perfect precision and consistency, shave after shave !

Promotion of shaving products - No affiliation to the brand Merkur