Merkur Razors
Are you ever wonder what makes such a difference between a classic razor and a Merkur Razor? All new razors are made of plastic, have multiple blades and other vibrating functions. Do they provide a good shave? Not really! Merkur Razors are designed with stainless steel and a single razor blade for a close and comfortable shave based on the balance provided by the razor handle. Using this high quality tool, you will reduce considerably ingrown hairs, post-shave pimples, or razor bumps.

The construction is very solid, so there is no flexing, or twisting when shaving and the satin finish allows it to just glide along the skin. The razor's body is fairly heavy, almost no pressure is needed to shave. Merkur Razors are well built and will become your lifetime shaving companion.

Without a doubt, this will be the finest razor you will ever used!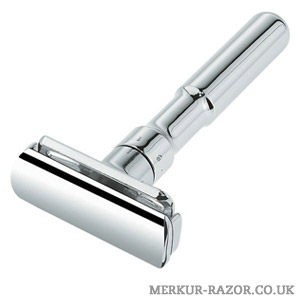 Brand: MERKUR
Price: £52.99 (free UK delivery)
German engineering at an affordable price!
Designed and manufactured in the famous Solingen factory in Germany, the Merkur Futur 761 has inherited from the world finest creator of shaving equipment. This Merkur Futur 761 is coated of a high quality chrome giving a superb mirror finish and insurance a high level of resistance to water erosion and related damages. The German equipment is well known for its high level of quality and its durability, here the same apply to this fine product. The Merkur Futur safety razor offers the possibility to adjust its configuration to fit with personal preferences to suit all type of shaving needs to achieve the most comfortable and close shave. The Merkur safety blades are a perfect match for this razor as they deliver a perfect shave and last longer than some cartridge razor blades.

The Merkur Futur 761 Chrome Finish is delivered in a Merkur branded cardboard box with a single Merkur razor blade.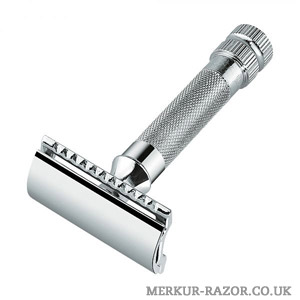 Brand: MERKUR
Price: £29.99 (free UK delivery over £40)
Heavy duty razor for a classic man
When you hold the Merkur 34C in your hand, you feel the perfect balance between a strong build safety razor and the faultless smooth shave when gliding on your skin. As many men have said, this razor feels like an extension of your hand. You will not believe the quality of the shave on your first attempt! Indeed, this double edge razor (DE razor) always gives a particularly close shave without having to know any special technic making it simpler than it appears.

This iconic shaving product is one of the bestselling razors in the world, which explains why it is so difficult to find some supply. The Merkur 34C has a length of 8cm for a weight of 80g (2.8oz), the handle is carved to provide a perfect hold and ensure that the razor won't slip during shaving.

This German handcraft master piece has been selected for several years as one of the most accomplished razor, and in 2011, the Merkur 34C has won the world's best razor award from About.com Readers' Choice Award.
Follow this link for more information about Merkur Razor

Promotion of shaving products - No affiliation to the brand Merkur